Free Bookkeeping Tests

How Much Do You Really Know
About Accounting?
These free bookkeeping tests are a quick and fun way to find out how much you really know about income tax, bookkeeping and accounting principals.
You will find a couple different short quizzes such as the 10 question quiz along with more in-depth bookkeeping tests such as the 20 question interactive test.

I hope that you will find all of the fun bookkeeping quizzes here to be enjoyable and enlightening, helping to increase your accounting skills and know how.
Free Bookkeeping Tests - Bookkeeping Quiz

This quick 10 question quiz is a great place to start. It is short and sweet and provides you with immediate access to the answer key. Just click your answers directly on the screen then click submit to find out how many anwers you got right.
See how much you know by taking the Bookkeeping Quiz!
Free Bookkeeping Tests - Bookkeeping Test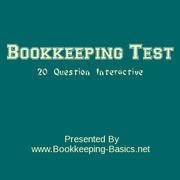 This bookkeeping test is a 20 question interactive exam to help test your bookkeeping mettle. Your financials are a very important aspect of your business.
Whether you are a business owner or bookkeeper, it is a good idea to evaluate your candidates or self with a bookkeeping test such as this one in order to ensure you are getting or providing qualified, accurate bookkeeping expertise.
Take the 20 Questions interactive Bookkeeping Test Here
---
Free Bookkeeping Tests - Bookkeeping Products
---
Free Bookkeeping Tests - Bookkeeping Survey
So have I helped you to answer my original question from the homepage? If so, let us all know about your decision by answering the survey below...

---
Free Bookkeeping Tests - Bookkeeping Poll
Most people get fairly stressed out at tax time, how about taking a quick poll to sound off on what it is about tax time that makes you worry the most?

---
More bookkeeping tests are on the way. Please subscribe to my bookkeeping blog to stay up-to-date on new bookkeeping tests as they become available.
Also subscribe to my YouTube channel for valuable "how to do bookkeeping" videos. These how to videos are categorized and broken into 3 to 4 week learning intervals.
---
Please subscribe to my monthly newsletter, Bookkeeping Basics E-zine. It tells you each month about the new information that I have added, including some great tips and advice from myself and other readers.
---
Related Products
Bookkeeping Questions & Answers
Accounting & Bookkeeping Supplies
Like Bookkeeping-Basics.net?