Free Bookkeeping Tests

How Much Do You Really Know
About Accounting?
Introducing: Free Bookkeeping Tests - How Much Do You Really Know About Accounting?
Are you ready to put your accounting knowledge to the test? Curious to see just how much you know about bookkeeping and financial concepts? Look no further! We're thrilled to offer you a fantastic opportunity to challenge yourself with our Free Bookkeeping Tests.
Whether you're an aspiring accountant, a small business owner, or simply someone interested in understanding the world of finance better, these tests are designed to assess your understanding of key accounting principles and practices. Get ready to embark on an exciting journey that will both entertain and educate you about the fascinating realm of bookkeeping.
From basic concepts like debits and credits to more advanced topics such as financial statements and cash flow analysis, our tests cover a wide range of essential accounting knowledge. Prepare to be challenged, as each question is crafted to gauge your expertise and reveal any areas that may require further exploration.
Our Free Bookkeeping tests are not only an opportunity for self-assessment but also a chance to expand your accounting acumen. With detailed explanations and feedback provided for each question, you'll have a valuable learning experience that can enhance your financial understanding and empower you in your personal or professional endeavors.
So, are you ready to prove your accounting prowess? Don't miss out on this exciting opportunity to test your knowledge and discover how much you really know about accounting. Take the plunge into the world of numbers, financial statements, and balance sheets by trying out our Free Bookkeeping Tests today!
You will find a couple different  short quizzes  som 10 question quiz alongwith more in-depth  bookkeeping tests  som 20 question interactive test.

I hope that you will find all the fun bookkeeping quizzes here to be enjoyable and enlightening, helping to increase your accounting skills and know how.
Free Bookkeeping Tests - Bookkeeping Quiz

Free Bookkeeping Quiz
The free 10-question bookkeeping quiz serves as an excellent starting point for anyone looking to assess their understanding of accounting principles. Whether you're a student, a professional seeking a refresher, or someone with a general interest in bookkeeping, this quiz offers a convenient and engaging way to test your knowledge.
With just 10 carefully crafted questions, the quiz provides a snapshot of your proficiency in key accounting concepts. It covers a range of fundamental topics, including debits and credits, financial statements, journal entries, and basic bookkeeping principles. By answering these bookkeeping questions, you can gauge your grasp of the foundational elements of accounting.
One of the significant benefits of the quiz is its accessibility. It's easy to access and complete online, making it convenient for individuals with busy schedules. You can take the quiz at your own pace and revisit it as many times as you like, allowing for self-paced learning and improvement.
Moreover, the quiz serves as a great accounting course diagnostic tool. As you answer each question, you receive immediate feedback and explanations for both correct and incorrect responses. This feedback helps you identify areas where you may need further study or clarification, guiding your learning journey.
The quiz also instills a sense of achievement and motivation. Upon completion, you'll receive a score that reflects your performance. Celebrate your successes, and don't be discouraged by any areas that may require improvement. Use the results as a springboard for further learning and exploration, targeting specific topics for deeper understanding.
Ultimately, the free 10-question bookkeeping quiz is an excellent stepping stone towards enhancing your accounting knowledge. It acts as a catalyst for self-assessment, providing valuable insights into your understanding of fundamental concepts. Embrace this opportunity to test yourself, identify areas for growth, and embark on a rewarding journey towards mastering the art of bookkeeping.
See how much you know by taking the Bookkeeping Quiz
Free Bookkeeping Tests - Bookkeeping Test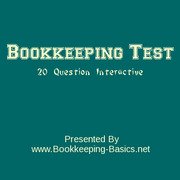 Free Bookkeeping Test
This bookkeeping test is a 20-question interactive exam to help test your bookkeeping mettle is a bit meatier. Your financials are a very important aspect of your business.
Take the 20 Questions Interactive Bookkeeping Test Here
---
Free Bookkeeping Tests - Bookkeeping Products
---
Free Bookkeeping Tests - Bookkeeping Survey
Please have fun with answering the two-question survey below:

---
More bookkeeping tests are on the way. Please subscribe to my bookkeeping blog to stay up-to-date on new bookkeeping tests as they become available.
Also subscribe to my YouTube channel for valuable "how to do bookkeeping" videos. These how to videos are categorized and broken into 3 to 4 week learning intervals.
---
Please subscribe to my monthly newsletter , Bookkeeping Basics E-zine. It tells you every month about the new information that I have added, including some great tips and advice from myself and other readers.
---
Bookkeeping Questions & Answers
Accounting & Bookkeeping Supplies
Like Bookkeeping-Basics.net?