Balance Sheet

The Assets = Liabilities + Owner's Equity Equation
What exactly is the balance sheet? In short, a Balance Sheet is a report that gives you a summary of the financial situation of a business on any given date. But what does that mean exactly?
It will show you the total value of your company's assets, liabilities, and equity.
Interestingly enough, it got it's name because the total of the assets is always exactly equal (in balance) to the combined total of the liabilities and equity.
The formula looks like this: Assets = Liabilities + Owner's Equity. This is also otherwise known as the Accounting Equation. 

Bookkeeping 101 E-Book
This Bookkeeping 101 EBook is a useful tool for business owners, bookkeepers, accountants and anyone responsible for household personal finances.
You can receive the complete Bookkeeping 101 accounting series in a 23 page E-Book for $4.97 along with all sorts of other accounting, business and financial goodies.
Balance Sheet Accounts
There are many different bookkeeping accounts that appear on the monthly and annual report.
The different bookkeeping accounts you will find can be thought of as all of the things (including money) that you own as well as all of the debts that you owe.
This would include things like bank accounts, property (buildings), equipment, furniture and amounts that people owe you (Accounts Receivable).
This also includes all of your liabilities such as bank loans, credit cards, and amounts you owe to other people (Accounts Payable).
Additional types of bookkeeping accounts that you will find are the equity accounts. These indicate what your business is worth and include all of the money (investments) that the owners have put into the company as well as all of the money, draws or distributions that the owners have taken back out.
The equity of your company is the total of all of your assets (what you own) minus the total of all of your liabilities (what you owe). This is also known as the net worth of your company.
When determining what you equity is, the accounting formula changes. Now the formula would look like this: Equity = Assets - Liabilities.

Sample B/S Report
Your b/s report may be long or short depending up the type of company you have, how many assets, furniture, equipment, and loans you have.
However a report will always have the same overall look and feel. A sample report might look something like this...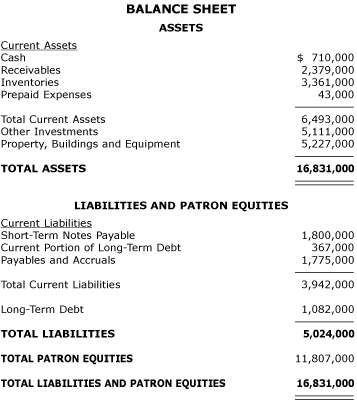 Have A Question About The Balance Sheet?
Is there something more you would like to know about the Balance Sheet? Please share your question.. others may be wondering the same thing!
What Other Visitors Have Said
Click below to see contributions from other visitors to this page...

Related Products
Bookkeeping 101 Articles
Like Bookkeeping-Basics.net?