Investment Questions and Answers

Free Investing Q&A
Do you have any investment questions and answers you would love to ask or have answered for free? Here on the Investment Questions and answers page you can ask any question you want pertaining to Investments of any kind. You may also give investment advice to others and learn more about the best ways to invest your money.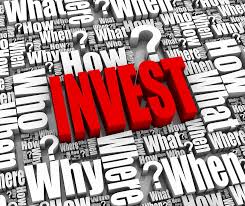 In response to the amount of questions I have been receiving regarding investments, I decided to start this page to answer any investing questions you have about investing your money.
Submit investment questions ~ Read questions and answers

Rather than answering ongoing individual questions, this will give everyone a chance to read about the universal questions that others have about investing also. This will become a FAQ about Investments that will be beneficial to everybody.
Investment Questions And Answers
This investment questions and answers page offers immense value to you by providing a reliable platform for obtaining expert insights and guidance related to investments. Here are some key benefits you will find here:
Knowledge and Education: The investment Q&A page serves as a valuable educational resource, offering you access to a wealth of information about various investment topics. It can cover a wide range of subjects, including investment strategies, asset allocation, risk management, market trends, and more. You can expand your knowledge and make informed investment decisions.
Expert Advice and Insights: The page provides an opportunity to seek advice from knowledgeable experts in the investment field. Experienced professionals can answer questions, share their insights, and offer personalized guidance tailored to the unique circumstances and goals of each individual.
Clarifying Doubts and Concerns: Investors often have specific doubts or concerns about their investment decisions or the market. The Q&A platform allows them to seek clarification on these issues, addressing their specific concerns and providing peace of mind. Clearing doubts can instill confidence and help visitors make more confident investment choices.
Learning from Others: In addition to seeking expert advice, the investment Q&A page allows you as a visitor to learn from the questions and answers of fellow investors. This collaborative environment enables the sharing of experiences, perspectives, and strategies, fostering a sense of community and encouraging knowledge exchange among investors.
Staying Informed: The Q&A page can serve as a reliable source of up-to-date information on investment trends, news, and market developments. Helping you to stay informed about the latest happenings and insights and to stay ahead of the curve and make informed investment decisions.
Customized Solutions: You will receive personalized solutions to your investment queries, considering your unique financial situation, risk tolerance, and investment goals. This tailored advice can help you develop investment strategies that align with your specific needs, maximizing your potential for success.
Empowering Investors: By providing a platform for investors like you to seek information and advice, the Q&A page empowers individuals to take control of their financial future. It encourages active participation in the investment process and helps everyone gain the knowledge and confidence needed to make sound investment choices.
Overall, an investment questions and answers page on a website offers visitors a valuable resource for education, expert advice, clarification of concerns, and staying informed about investment-related matters. It creates a supportive community that fosters learning, sharing, and empowerment among investors. Utilizing such a platform can be instrumental in helping individuals such as yourself to navigate the complex world of investments and work towards achieving their financial goals.
Investment Q&A
There is a lot of valuable information to be found here. How to invest, where to invest and what to invest in can be extremely daunting and it can be overwhelming trying to figure out exactly what makes for a good investment opportunity, it is scary not knowing whether or not you are investing wisely, and it is always helpful to be able to validate your findings. This investment Questions and Answers forum will be a great help with that.

The advice I give is only from my experiences, and I don't have experience with everything. So, if you are a business professional, a personal or professional investor who has experience with any of the questions you find here, please help me by also contributing to the answers.
This is a two-way web page...you and me. You can ask a question, answer a question or do both. You will become my co-expert on these investment questions by rating and submitting comments. The more interactive the better!
Of course, you can still contact me if you have a question that you feel would not benefit others or needs a personal response. The tax questions found here have been broken down into subcategories for greater ease of use.
Income Tax & Bookkeeping Questions
There will also be separate pages to ask income tax questions and bookkeeping questions as well as many other question categories that you will find listed below. In addition to being able to ask a question about your bookkeeping problems, you can also read previous bookkeeping Q&A's on that page as well. All of the information found on the bookkeeping questions page has been broken down into subcategories.  
All other questions about any aspect of income taxes can be asked just below, on this page.
Important: If you do not include enough information in your question, I will not be able to answer it. Please be as detailed as possible.


Have Questions about Investing? Let Us Help
Ask questions about any area of investing. You can even answer questions that have already been asked. It's free, it's easy and it's fun.

This is for everyone to participate in. Let's all help and be helped. Don't forget to check back soon to view the answers. I'll do my best to give my personal reply or post for others to answer within 24 hours.

You can also upload a photo if you want to show the problem. Sometimes it helps to see what you are talking about, but it's not absolutely necessary.

Important: When you ask your question, please include as many details as possible.
What Other Visitors Have Said
Click below to see contributions from other visitors to this page...

Where To Invest Your Money - Discovering Opportunities






What would you recommend as the 5 best investments to make when getting started?
More Question & Answer Pages
Like Bookkeeping-Basics.net?