Income Tax News
The Latest Income Tax Information
Income Tax News - When you are trying to deal with your end of year income taxes, it can take all your energy just to get through the day. But one thing that can help is to stay on top of the latest tax news.
You never know when you will find out something new that can help you during tax time. To make life easier for you, I have done the work of collecting the latest news on income taxes for you. This page will automatically update whenever a news story is released that is related to income taxes. 

Be sure to bookmark this page, or sign up for our site's RSS feed by clicking on one of the orange buttons to the right or going to the Bookkeeping Blog page.

Income Tax News
I will occasionally comment on certain news items and add it to my site. You can see a summary of my news highlights and commentary just below the News section below. In fact, you can submit a news story about income taxes or your commentary as well!

Income Tax
On an income tax news webpage such as this, you can expect to find a range of information related to income tax laws, regulations, updates, and resources. Here are some common types of content you might find here:
Tax Law Changes: Updates on changes to income tax laws at the local, state, or national level. This can include new tax regulations, modifications to existing laws, or proposed legislation that may affect taxpayers.
Filing Deadlines: Information about important income tax filing deadlines, including due dates for individual and business tax returns, extensions, estimated tax payments, and other related deadlines.
Tax Planning Tips: Articles providing guidance and strategies for effective tax planning. These may include tips on maximizing deductions, credits, and exemptions, as well as advice on minimizing tax liabilities through legal means.
Tax Forms and Instructions: Resources that provide access to tax forms, instructions, and publications issued by tax authorities. This can include links to downloadable forms, explanations of how to fill them out correctly, and guidelines for specific tax situations.
IRS Announcements and Updates: News and updates from the Internal Revenue Service (IRS) regarding tax-related matters, such as new guidance, policy changes, enforcement actions, or important announcements impacting taxpayers.
Tax Credits and Deductions: Information on available tax credits and deductions, along with eligibility requirements, limitations, and any changes in their availability or applicability. This can help individuals and businesses identify potential tax-saving opportunities.
Tax Compliance and Reporting: Guidance on tax compliance and reporting obligations, including information on record-keeping, reporting requirements, common errors to avoid, and tips for accurate and complete tax filings.
Tax Resources and Tools: Links to helpful resources such as online calculators, tax software, guides, videos, and other tools that can assist taxpayers in understanding and navigating the tax filing process.
Expert Insights and Analysis: Articles or interviews featuring tax professionals, accountants, or tax experts providing insights, analysis, and expert opinions on various income tax topics, trends, and strategies.
Remember that the specific content on this webpage will vary depending on what is being asked. It's always a good idea to consult official tax authorities and qualified tax professionals for personalized advice and to ensure compliance with current tax laws and regulations.
Additional News
I will also make it quick and easy for you to contribute your own news that you have come across relating to accounting and finance.
Also, unlike most news services, I will make it simple to provide direct public commentary on news items as well through the Facebook comment box located at the bottom of this page.
To make it even easier for you, I have categorized some of the key topics, so that you can find news updates directly related to these popular topics as well:

Do you have news that you would like to share? Just look below the "Latest News" section and you will see a news input form that you can use to send me your news information.
Directly below that you will see a list on news stories contributed by other visitors, along with key stories that I have chosen to highlight for you. Then click on the title of any of those items in order to get more details.

Latest Income Tax News
Submit a news story
Have income tax news or news commentary to share?
Do you know any news related to income taxes that you think should be shared but isn't here yet? This is where you can submit information about it.

I will add any news you let me know about and also provide a spot for other visitors to comment on it as well.
Income Tax News Highlights and Contributions
Click below to see news highlights, contributions and commentary from other visitors to this page...


Bring Me The News Not rated yet
There are many tax considerations that are important to consider at the end of the year. Personal circumstances that changed during the year as well as …
Bookkeeping News
It can be hard to stay on top of bookkeeping news also. Sorting out the puzzle of bookkeeping procedures is also a huge task, in addition to trying to solve the puzzle by being proactive.
I have set up a process that will automatically update this page with the latest in bookkeeping news from around the world in order to make life easier for you.
CLICK HERE to read the latest Bookkeeping News

Accounting News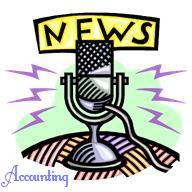 Accounting News
It can be hard to stay on top of accounting and book keeping news. Sorting out the puzzle of accounting procedures is a huge task, let alone trying to solve the puzzle with proactive actions.
I have set up a process that will automatically update this page with the latest in news from around the world in order to make life easier for you.
Read the latest Accounting News 

More About Income Taxes
Like Bookkeeping-Basics.net?