Bookkeeping Test

20 Question Interactive Exam
The Bookkeeping Test is an interactive exam consisting of 20 questions designed to evaluate your knowledge and proficiency in bookkeeping principles and practices. 
This comprehensive test covers various aspects of bookkeeping, including financial record-keeping, journal entries, financial statements, accounts payable and receivable, tax regulations, and more.

Bookkeeping Test
Whether you are a student studying bookkeeping, an aspiring bookkeeper, or a business owner looking to assess your bookkeeping skills, this test provides an engaging and informative platform to gauge your understanding and competency. Each question presents a real-world scenario or concept, challenging you to apply your knowledge and make informed decisions.
All of the free bookkeeping tests on our site offer a user-friendly interface, allowing you to select the best answer for each question within a specified time frame. Once completed, you will receive immediate feedback on your performance, including a detailed breakdown of correct and incorrect answers. This feedback serves as a valuable learning tool, helping you identify areas for improvement and further study.
With its interactive format and comprehensive coverage, the 20-question exam is an invaluable resource for individuals seeking to evaluate their bookkeeping skills and enhance their understanding of fundamental principles. Whether you are preparing for an exam, assessing your proficiency, or simply aiming to expand your bookkeeping knowledge, this test provides an engaging and educational experience to support your learning journey.
Your financials are a very important aspect of your business. Whether you are a business owner or bookkeeper, it is a good idea to evaluate your candidates or self with a bookkeeping exam such as this one in order to ensure you are getting or providing qualified, accurate bookkeeping expertise.
Essential Skills
In the realm of financial record-keeping, lacking essential skills can result in costly errors that can significantly impact a business's financial health. Taking chances with incomplete knowledge is unnecessary when it comes to recording a business's daily financial transactions. While proficiency in bookkeeping software like QuickBooks is valuable, it is crucial to possess a broader understanding of accounting fundamentals. To assess and validate candidates' knowledge in this area, the Bookkeeping Exam serves as a valuable resource.
The Bookkeeping Exam is specifically designed to evaluate a candidate's comprehension of crucial accounting principles and practices. It encompasses a wide range of topics, including general ledger management, inventory tracking, payroll processing, accounts payable and accounts receivable procedures, invoicing, and generating financial reports.
By engaging in the Bookkeeping Exam, candidates can assess their proficiency in these fundamental areas and identify any potential gaps in their knowledge. This exam offers a comprehensive evaluation that goes beyond surface-level familiarity with bookkeeping software. It delves into the core concepts and principles that underpin effective financial record-keeping, ensuring that candidates possess a holistic understanding of the subject matter.
Additionally, the Bookkeeping Exam provides an opportunity for candidates to demonstrate their ability to apply theoretical knowledge to practical scenarios. The exam questions present real-world situations, requiring candidates to analyze, interpret, and make informed decisions based on their understanding of accounting fundamentals.
By participating in the Bookkeeping Exam, candidates can gain valuable insights into their own skillset, identify areas for improvement, and tailor their learning journey accordingly. It serves as an essential tool for individuals seeking to enhance their bookkeeping proficiency and mitigate the risk of costly mistakes in financial record-keeping.
In conclusion, the Bookkeeping Exam offers a comprehensive assessment of candidates' knowledge and application of accounting fundamentals. By evaluating skills beyond basic software proficiency, it provides a robust evaluation of a candidate's ability to effectively record and manage daily financial transactions. Utilizing this exam allows individuals to identify any knowledge gaps, improve their proficiency, and mitigate the potential risks associated with inadequate financial record-keeping.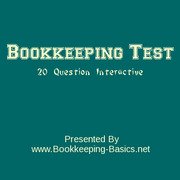 Bookkeeping Test
You Are Secure!
The bookkeeping exam will make sure that you will no longer need to rely only on the interview to detect exaggerations in skills and knowledge that are sometimes found in resumes. Pre-employment accounting tests from www.Bookkeeping-Basics.net are a smart choice for assessing a candidates true level of skills working with accounts payable & receivables, debits and credits, payroll, and financial statements such as the balance sheet and profit and loss statment.
Determine the bookkeeping skill levels of your candidates or yourself before the interview.
Improve your efficienty in recruiting qualified bookkeepers with accounting and bookkeeping exams designed by experts in the field.
Use one practical and concise test to evaluate many different bookkeeping skill categories
The interactive test is presented as a video with both multiple choice and true and false type questions. Simply read the question and click on the choice that you think is correct then click next until you reach the last question. You can go back and review questions before submitting. Once submitted you will receive immediate access to the total score or number of questions that were answered correctly out of 20. Along with the ability to scroll through each of the questions to see exactly which questions were missed and what the correct answer should have been.
You will get your money's worth with this valuable 20 question interactive bookkeeping exam. Click below to try it now!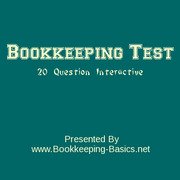 Bookkeeping Tests
You Are Secure!
---
Return from Bookkeeping Test to Home Page

Like Bookkeeping-Basics.net?