Bookkeeping Test
20 Question Interactive Exam
This bookkeeping test is a 20 question interactive exam to help test your bookkeeping mettle.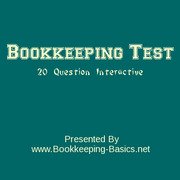 Your financials are a very important aspect of your business. Whether you are a business owner or bookkeeper, it is a good idea to evaluate your candidates or self with a bookkeeping exam such as this one in order to ensure you are getting or providing qualified, accurate bookkeeping expertise.

Bookkeeping Test
Missing skills can lead to costly mistakes, and there is no need to take chances. Recording the daily financial transactions of a business requires more than just knowledge of bookkeeping software such as Quickbooks. This bookkeeping exam can help to assess a candidates' knowledge of accounting fundamentals, from general ledger, inventory, payroll, accounts payable & accounts receivable, to invoices and financial reports.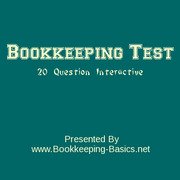 You Are Secure!
The bookkeeping exam will make sure that you will no longer need to rely only on the interview to detect exaggerations in skills and knowledge that are sometimes found in resumes. Pre-employment accounting tests from www.Bookkeeping-Basics.net are a smart choice for assessing a candidates true level of skills working with accounts payable & receivables, debits and credits, payroll, and financial statements such as the balance sheet and profit and loss statment.
Determine the bookkeeping skill levels of your candidates or yourself before the interview.
Improve your efficienty in recruiting qualified bookkeepers with accounting and bookkeeping exams designed by experts in the field.
Use one practical and concise test to evaluate many different bookkeeping skill categories
The interactive test is presented as a video with both multiple choice and true and false type questions. Simply read the question and click on the choice that you think is correct then click next until you reach the last question. You can go back and review questions before submitting. Once submitted you will receive immediate access to the total score or number of questions that were answered correctly out of 20. Along with the ability to scroll through each of the questions to see exactly which questions were missed and what the correct answer should have been.
You will get your money's worth with this valuable 20 question interactive bookkeeping exam. Click below to try it now!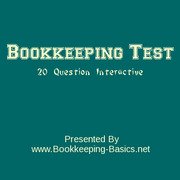 You Are Secure!
---
Return from Bookkeeping Test to Home Page

Related Products
Like Bookkeeping-Basics.net?