Bookkeeping Services

Professional And Accurate Business Accounting
My company offers professional and accurate bookkeeping services helping business owners to be more informed about their accounting and make better financial decisions.
Because of my extensive experience in bookkeeping, my clients benefit by getting a personalized, quality service that is beyond comparison.

Below I have listed the different services that I offer to my clients along with a brief description. As the list below is by no means all-inclusive, please feel free to inquire about other professional bookkeeping services if you do not see it listed.

If it is not a service I provide, I would be more than happy to refer you to a qualified professional that can help you with your bookkeeping needs.
Submit your testimonial ~ Read what other visitors have said

Bookkeeping Services

1. Bookkeeping/Write-Up
Meaningful, well-organized financial records will ensure that your business operations will run more efficiently on a daily basis and are the foundation of a successful business.
I can assist you with the day-to-day tasks associated with your bookkeeping write-up services including entering income and expense transactions, accounts payable, accounts receivable and adjusting entries to tie out to year end reports for tax purposes. Including mobile and virtual bookkeeping service.
Follow this link to read more about Bookkeeping/Write-Up

Click here to Request Bookkeeping Quote now!

2. Bank Reconciliation
Bank reconciliation is a necessary monthly bookkeeping services task. One of the reasons it is important is so that you are able to stay on top of your cash flow and not end up in the red.
Or in other words, overdrawn on your bank account and incurring unnecessary non sufficient fund fees.
To see an example of a Bank Reconcilation, please follow this link

Click Here to see my YouTube Bank Reconciliation tutorial
3. Profit and Loss Statement
I can assist you in the preparation of your financial statements such as the profit and loss statement in accordance with professional standards. The financial statements produced can be a useful tool in management for making beneficial financial decisions. 
The profit and loss statement is essential for financial forecasting and projection which is a necessity when trying to effectively manage and lead a business to profitability.
To learn about the Profit and Loss Statement, please follow this link

4. Balance Sheet
The Balance Sheet helps you to see the big picture of your business. It gives you an indication of whether your business is improving or going down hill. 
From simple bookkeeping projections to more complex financial modeling, I can assist you in achieving your company's financial goals by providing clean financial statements.
Read More About The Balance Sheet Here

5. Accounts Payable - Liabilities
Accounts Payable is used to record the bills and current liabilities of a business that are outstanding and is also referred to as A/P for short. A business can be profitable and still run into trouble due to cash flow issues.
By properly maintaining your accounts payable, I can track cash-flow and help make sure you don't fall behind on expenses.
Learn About Bookkeeping Services And Accounts Payable
Learn About Bookkeeping Services And Current Liabilities
6. Accounts Receivable
Accounts Receivable refers to the outstanding money that is owed to you for sales that you have already made that haven't been paid for yet.

I view my role in the financial reporting process as an opportunity to provide constructive solutions for maximizing your company's profitability and efficiency. Staying on top of A/R is one of the ways I can do this.
Learn more about Accounts Receivable by following this link

7. Chart of Accounts
Maintaining the chart of accounts is a must for your business. Often times when a business first gets started, organization of accounts, accounting records and transactions ends up being a low priority.
This is in turn ends up making for quite a mess at tax time and leads to unnecessary stress for you the business owner. I can help you with the clean-up and organization of your current COA and bookkeeping system.

Find out more about the Chart of Accounts by clicking here
Click here to Request Bookkeeping Quote now!

8. Online Income Taxes
There are many great online income taxes software programs available. I previously used Taxwise in my business, and have since graduated to the more advanced Lacerte software. These are both form driven accounting service tax preparation programs. They are great for a tax preparer to use, but not for the everyday person.
If you like to prepare your own taxes and do your taxes online, you will find the best name brand income tax preparation software here, all at discounted prices.
Follow this link to file your Online Income Taxes now!

9. Tax Services
I prefer to take a proactive vs. reactive approach to tax services. By keeping current on new tax laws and legislation, I am in a position to identify key tax planning opportunities that minimize both your current and future tax liabilities.
I provide my individual and business clients with the taxation expertise and knowledge that they deserve throughout the year. Tax services offered include but are not limited to: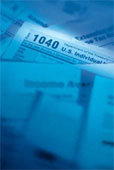 Tax planning & return preparation
Individuals
Corporations
Partnerships
LLCs/LLPs
Estates, trusts & gift, Retirement Plans
Not-for-profit organizations
Divorce and support issues
Contact Me About My Tax Services

Download And Utilize My Free Tax Organizer
Additional Services
I can also help with the following business needs as requested:
Your Testimonials
Have A Great Story About Your Experience with Bookeeping-Basics.net?
Are you a bookkeeping or income tax client? Do you have a great story about the experience you had working with me? Share it!


Bookkeeping Services Articles
Bookkeeping Services Q & A
Like Bookkeeping-Basics.net?