Bookkeeping FAQ

Frequently Asked Questions About Bookkeeping-Basics.net

Welcome to my bookkeeping faq, frequently asked questions about bookkeeping-basics.net page.
Following is a Bookkeeping FAQ with frequently asked questions about my website here at Bookkeeping-Basics.net and my business, Horne Financial Services.
If you have a question that is not answered here, please feel free to contact me directly or post your comment on the questions and answers page for the benefit of everyone.

Bookkeeping FAQ
Q: What services do you provide?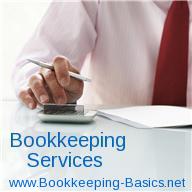 A: Horne Financial Services and my website Bookkeeping-Basics.net provides bookkeeping and income tax preparation services both in-house and virtually (online).
There are many different services that are provided from help with initial setup of your bookkeeping system, tutoring to help you do your own books, all the way through doing it all and providing all of your current financial statements so you can concentrate on doing what you love best.

Learn More About the Bookkeeping Services I Provide Here
Q: What do your services cost?
Bookkeeping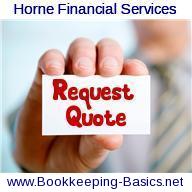 A: My fee for Bookkeeping is $65 per hour or a contracted set monthly packaged price, depending upon the services needed.
I offer an initial FREE CONSULTATION in order to determine your needs, and then you will be given a client engagement letter that will detail your needs and the associated fees.
If you use my services on an ongoing basis (retained fees), you will be given a retainer agreement and a discount on your hourly rates.
Download My Request Bookkeeping Quote Form Here
Income Tax Preparation
A: My fee for individual income tax preparation is by the form but typically averages out at about $165 per hour, which includes FREE e-file!
Meanwhile a business tax return is by the form also and averages out at $225 per hour. Please call my office at (707) 795-1320 to make an appointment.
Go Here To File Your Online Income Taxes Now
Q: What are your business hours?
A: My business hours are flexible and by appointment only.
You can use my contact me form to ask me any questions you may have, or phone the office at (707) 795-1320 to make an appointment.  
If you are unable to meet in person, we can schedule a phone meeting at your convenience.
Or, you can use my super easy and convenient online scheduling system here.

Q: Will you replace my current CPA?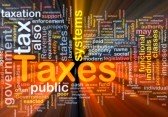 A: Yes, or no. I can assume the bookkeeping responsibilities that your accountant currently provides for you at a much more reasonable price.
I can also take over your tax preparation services at a more reasonable price if you would like as well. I have experience with high-end income tax returns working within a CPA firm in Rohnert Park, however, you may have tax needs that I am inexperienced with.
If so, you may wish to keep you current CPA or I would be happy to recommend someone to you.

Q: What forms of payment do you accept?
A: I currently accept Cash, Checks and Visa, Mastercard, Discover and American Express, Paypal, Fee Collect (withholding your fee directly from your refund), Square, Venmo and Bitcoin.

Q: Where are you located?
A: I am located in Rohnert Park, California which is in Northern California Sonoma County in between the cities of Petaluma, Cotati, and Santa Rosa.
However, I can work virtually and remotely with clients located in any city in the United States as much of the work is done electronically.
Also as an Enrolled Agent vs a CPA.. I received my tax preparation designation from the Federal Government and so am able to help prepare taxes in ALL states rather than just one state.

Q: Can you help clean up my books?
A: Yes, I can help clean up your books and get you organized. Please contact me today!

Related Products
Bookkeeping FAQ - Q & A Forum
In response to the amount of questions I have been receiving via email, I decided to start this page to answer any questions you have about problems with your bookkeeping.
It is always beneficial to have the help of other professional bookkeepers to make sure you are accurately taking care of your books.
So if you find yourself worried and wondering if you are doing something correctly or not, have no fear! You have come to the right place for help.
More Bookkeeping Services
Like Bookkeeping-Basics.net?