Accounts Payable
The accounts payable account is typically used to record the bills of a business that are outstanding and is also reffered to as A/P for short. (There usually is only one single account on the chart of accounts to track all of the outstanding bills even though the word accounts is plural.)
---
Accounts Payable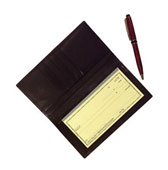 This is an account that should be added to your chart of accounts by the first time you enter a bill. The account will be used to track the money that your business owes to others.
When you pay off your outstanding bills, or when you enter a new bill, you should enter the transaction in the register for your A/P account.
This account is listed in the Chart of accounts as "Accounts Payable." But if you really feel you need to use more than one of this type of account in your business, then you can add additional A/P accounts to the chart or accounts.
---
Entering an open balance for a vendor account
For each vendor that you have, you will need to enter the amount owed to you on your start date. If you do not know the opening balance, you can just choose a different start date starting from when you do know the opening balance.
Or you can figure out the opening balance by reconstructing what you owe your vendor today and reconstruct what you owed them at your start date by subtracting any payments you made between then and now, and adding any additional billings you have received between then and now.
You can also ask your accountant for the year-to-date balances for your accounts.
When you enter the opening balance for your vendors, you're building the A/P opening balance.
From your start date up to today's date
When you enter the following types of transactions using the standard sales forms (checks, bills and invoices) you are ensuring that your A/P accounts (and accounts receivable and income and expense accounts) are up-to-date and accurate:
Bill payments
Bills from vendors
Credits from vendors
Deposits
Sales tax payments
Invoices and sales receipts with sales tax, if appropriate
Customer returns
Payments received from customers




---
Accounts Payable Register
The A/P register will list all of the payments, credits, and bills related to each of your individual vendors.
New bills can typically be entered directly into the register or through an enter bills tab in most bookkeeping software.
---
Different ways to pay for your bills
There are two different ways that you can manage bill payments in most bookkeeping software.
You can enter bills when you get them and pay them when they're due.
Using his method will let you keep your money in your business for as long as possible. It will also enable you to track how much money you owe to others. You can then run reports at any time to see how much money you owe to others, and to whom you owe it.
This is a good method to use to keep a record of all your bills, both before and after they're paid. You can simply use the Enter Bills window to enter bills into your A/P account and use the Pay Bills window to pay them when they're due.
You can also set up most bookkeeping software to remind you to pay bills when they're due.
Important: When you enter a bill in the Enter Bills window, you should always use the Pay Bills window to pay that bill as well. If you don't the bill will not be marked as paid.
You can pay bills as soon as you receive them.
You should use this method only when the bills have not been entered and you don't really need to track them.
When you pay with check, cash, or any other form of payment other than a credit card, you can use the Write Checks window.
When you pay a bill with a credit card, you should record the payment in the Enter Credit Card Charges window.
In either window, you can assign the charge to an expense account.








Have A Question About The Accounts Payable Account?
Do you have a question about this? Please ask it!
What Other Visitors Have Said
Click below to see contributions from other visitors to this page...

Trial Balance and A/P Schedule Not rated yet
I have a general journal entry that says "check correction wash". What does that mean? And how would QB's mark it as paid? This is causing the two to not …
Payroll Check Running Through Accounts Payable Not rated yet
What are the negative implications of running payroll checks through accounts payable and not through payoll service?
Payables Not rated yet
How do you give an accounts payable account a refund?
Entry For Stock Purchase of Company in Exchange for Note Payable Not rated yet
We are considering purchase of company from existing owner. It is sub chapter S. We get the stock and pay the owner cash and he takes back a note payable. …
Loan Penalties Payable Not rated yet
Can I record in the books penalties for bank loan payable which are not yet paid.
Accounts Payable Gratuities Not rated yet
I use PCLaw. I am trying to enter an account payable for a meal I bought. The tax and the total amount do not add up because there was a delivery charge …
Account Payable Account Not rated yet
How to remove a account payable with a balance from a computer program? This account was entered in a business account. However, it is a personal account …
AP Ledger Not rated yet
Why does my AP Ledger detailed summary shows 0 in all columns except in 90 days and over. It shows the original invoice $ amount? How do I fix it?
Accounts Payable Not rated yet
My year end balance sheet for last year, shows accounts payable, a liability. This means that the expense for this liability has been taken in the the …
Delinquent Accounts Payable Not rated yet
I am behind financially with my manufacturer. About a year ago, he took the old balance I owe and has treated it as a completely separate amount from the …
ACCOUNTS PAYABLE Not rated yet
IS THE ACCOUNTS PAYABLE ACCOUNT IN THE GENERAL LEDGER SUPPOSED TO MATCH WITH THE AP INVOICE AGING REPORT?
Hello and thank you for your question. …
---
Learn about the Accounts Receivable

Learn about the Balance Sheet

Learn about the Chart of Accounts

Learn about the Profit and Loss Statement

Return from Accounts Payable, to Bookkeeping 101

Return to Bookkeeping Basics Home Page



ABOUT ME ~ CONTACT ME ~ FAQ ~ SITEMAP ~ SITESEARCH