Profit and Loss Statement
The Profit and Loss Statement can tell you a lot about how a business is doing. It can also help you to determine ways that you can go about saving money (so that there is more to bring home!)
Do you know how to read your financial statements?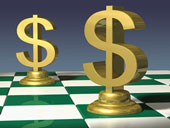 Have you heard?...
A good many new business owners who are just getting started in their own business don't know how to read the two main financial statements.
They are treating their money like it's a game.
Your business might not be operating for long if you don't learn to read and use the profit & loss statement and balance sheet.
It's a good thing you are already here to learn everything you need to know! ;)
---
The two main financial statements are very useful in many ways.
One beneficial thing a profit and loss statement can do is to compare the current year's income and expenses to those of the previous year. This would indicate if the decisions you are making are helping you to make more money or less money.
The balance sheet in contrast gives you a view of your overall financial health, and is an indication of whether your business is improving or going down hill.
The financial statements can also be used by other people in ways that can benefit you or be to your detrimant. An example of this would be when you are presenting your bookkeeping reports to a bank. The banker will look at these financial statements and try to predict how long he or she expects you to stay in business.
The profit & loss statement will basically tell the bank if your business is profitable or not. While the balance sheet will tell the bank how stable you are financially.
What you would typically want to see on a profit & loss statement would be a steady amount of growth in revenue and net income.
---
A sample profit and loss report might look something like this...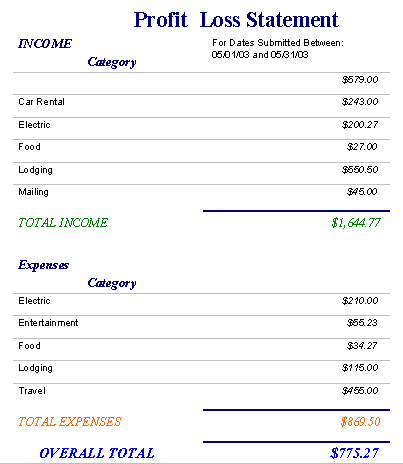 After reviewing it's profit and loss statement, sometimes a company might end up choosing not to grow in order for them to be able to increase their net income.
They might also decide to cut back on jobs that aren't making them as much money, or decide not to sell the types of products that are making them less money.
The Profit & Loss Statement is great to review in order to make sure that you are making money and not overspending on job costs or overhead expenses.
In contrast, on the balance sheet you would be looking for a higher amount of assets, a lower amount of liabilities, or a proportional amount of growth in assets over the liabilities.
An overall common rule of thumb is to try and keep the value of your assets at equal or at least two times the value of your liabilities. So if you have $200,000 in assets, you should have $100,000 or less in liabilities.
This would let you know that you are doing well and are right on track for the success that you seek!




---
Please come back soon, or sign up for the Bookkeeping Basics Blog to stay up-to-date with new pages as they become available as well as to get valuable tips and guidance from myself and other bookkeeping basics visitors.





Have A Question About The Profit and Loss Statement?
Do you have a question about the Profit and Loss Statement? Share it!
What Other Visitors Have Said
Click below to see contributions from other visitors to this page...

Income Statement






Am I correct in saying that if a figure appears in brackets in my income statement it refers to a credit? I think I captured a payment as a deposit …
Profit and Loss Account Not rated yet
What will we find in Profit and Loss Account? How it is useful for our business?
Financial Statement Question Not rated yet
I am not sure how to do these type of questions and that I need a lot of help with the profit and loss statements.
Assistant Store Mgr Inventory Valuation Not rated yet
I am an Assistant Store Manager and need a better understanding of what is inventory invaluation? Did you mean inventory valuation as opposed invaluation? …
Financial Statement Question Not rated yet
from the following information prepare: 1 Profit and Loss Appropriation A/C for year ended 31.12.2005 2 Balance Sheet extract as at …
Zero Income - Big Expenses Not rated yet
I am a singer-songwriter. I didn't earn any money in 2010 but had a lot of expenses due to traveling and recording sessions. Can these expenses be deducted …
Profit & Loss Reports Not rated yet
Should sales tax collected and paid be shown as an income/expense account on a profit & loss statement?
Profit and Loss Statement Not rated yet
Should credits for your credit card be showing on your profit and loss statement? A business expense purchase made with your credit card would should …
Profit and Loss Not rated yet
Hi everyone 1) We are working on the Profit and Loss and only changing the BUDGETED revenue and BUDGETED Net Profit figure The current Budgeted …
Owner Services Affecting The Profit And Loss Not rated yet
Hi, I am the owner of a construction corporation, being the primary carpenter on the jobs I do the money I pay myself in Quikbooks is expensed through; …
Financial Satements Not rated yet
Which one asset account will always be carried over from the unadjusted trial balance columns of a work sheet to the balance sheet columns of the work …
Profit and Loss Percent Not rated yet
ROHIT BOUHT A TAPE RECORDER FOR RS 1,500 AND SOLD IT FOR RS 1,800. CALCULATE ITS PROFIT OR LOSS PERCENT. The profit and loss percent for the above …
Profit and Loss Not rated yet
A man bought eggs at Rs 9.60 per dozen. At what price per hundred must he sell them so as to earn a profit of 15%. I believe the answer to your question …
Profit Sharing & Data Bases Not rated yet
At this time in order for my company to keep track of how much our future contributions are going to be every payroll cycle we put the amount on tallied …
---
Learn about the Accounts Payable

Learn about the Accounts Receivable

Learn about the Balance Sheet

Learn about the Chart of Accounts

Return from Profit and Loss Statement, to Bookkeeping 101

Return from Profit and Loss Statment, to Bookkeeping Basics



ABOUT ME ~ CONTACT ME ~ FAQ ~ SITEMAP ~ SITESEARCH