Profit and Loss Statement

How to Read Your P&L
The Profit and Loss Statement can tell you a lot about how a business is doing. It can also help you to determine ways that you can go about saving money (so that there is more to bring home!)
Do you know how to read your financial statements?
A good many new business owners who are just getting started in their own business don't know how to read the two main financial statements. 
They are treating their money like it's a game.
Your business might not be operating for long if you don't learn to read and use the profit & loss statement and balance sheet.
It's a good thing you are already here to learn everything you need to know! ;)


Two Main Financial Statements
The two main financial statements are very useful in many ways.
One beneficial thing a profit and loss statement can do is to compare the current year's income and expenses to those of the previous year. This would indicate if the decisions you are making are helping you to make more money or less money.
The balance sheet in contrast gives you a view of your overall financial health, and is an indication of whether your business is improving or going down hill.
The financial statements can also be used by other people in ways that can benefit you or be to your detrimant. An example of this would be when you are presenting your bookkeeping reports to a bank. The banker will look at these financial statements and try to predict how long he or she expects you to stay in business.
The profit & loss statement will basically tell the bank if your business is profitable or not. While the balance sheet will tell the bank how stable you are financially.
What you would typically want to see on a profit & loss statement would be a steady amount of growth in revenue and net income.


Sample Profit and Loss Statement
A sample profit and loss report might look something like this...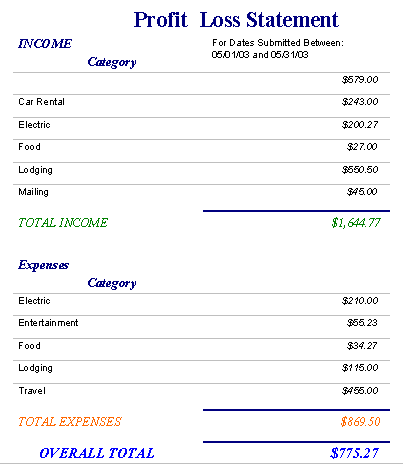 Reviewing a P&L Statement
I started this labor of love in 2008.
Thank you for making it one of the top visited sites about bookkeeping.
And thank you to "SBI!," which made it possible.
When you are in need of a bookkeeper, give me a call! Until then, I'd love to hear from you right here.

After a company does a review of it's profit and loss statement, it might end up choosing not to grow in order to be able to increase their net income.
They might also decide to cut back on jobs that aren't making them as much money, or decide not to sell the types of products that are making them less money.
The Profit & Loss Statement is great to review in order to make sure that you are making money and not overspending on job costs or overhead expenses.
In contrast, on the balance sheet you would be looking for a higher amount of assets, a lower amount of liabilities, or a proportional amount of growth in assets over the liabilities.
An overall common rule of thumb is to try and keep the value of your assets at equal or at least two times the value of your liabilities. So if you have $200,000 in assets, you should have $100,000 or less in liabilities.
This would let you know that you are doing well and are right on track for the success that you seek!
Have A Question About The Profit and Loss Statement?
Do you have a question about the Profit and Loss Statement? Share it!
What Other Visitors Have Said
Click below to see contributions from other visitors to this page...

More Questions and Answers
Please subscribe to my monthly newsletter, Bookkeeping Basics E-zine. It tells you each month about the new information that I have added, including some great tips and advice from myself and other Bookkeeping Basics readers.

Like Bookkeeping-Basics.net?