Bookkeeping Services to Manage Cash Flow
Bookkeeping Services
To Manage Cash Flow 
Help From a Professional Bookkeeper


Bookkeeping Services to Manage Cash Flow - Can the bookkeeping services of a professional bookkeeper help you to understand and manage your business cash flow?
As your business grows, understanding cash flow and different financial variables associated with the company becomes more and more complex. Whether you started the company out of a basement or a larger, factory setting, the more business you do the more financial reporting and responsibilities you have. In order to stay on top of all these different financial elements, you may want to seek out the bookkeeping services of a professional bookkeeper.

The bookkeeping services of a professional bookkeeper could help you navigate through the tricky financial planning and recording of the company's financial activities and ensure you have the money required to not only perform day to day business tasks, but to reinvest in the company and help it grow. One of the most important elements associated with your company's financial well-being is cash flow. While you might have a primary understand of what cash flow is, professional bookkeeping services can clearly outline what cash flow is and why it is so important. 

1. Bookkeeping Services to Manage Cash Flow - Working Capital
One important feature an experienced and well educated professional bookkeeper is sure to underline is working capital. What is working capital you ask? This is the amount of money your business needs to perform transactions and other internal operations. With the assistance of experienced and professional bookkeeping services it becomes much easier to not only understand the importance of working capital, but also how to calculate your working capital, which is generally the cash (or near cash assets) of the business, with current liabilities subtracted from this total amount.
Having a hand on your businesses' working capital is an important element of cash flow. If you do not know what it costs to run the day to day elements of your business you will soon not be able to fund your business' day-to-day activities. 
2. Bookkeeping Services to Manage Cash Flow - Financial Statements
When performing bookkeeping services to manage cash flow, whether you originally drew up your accounting books by hand or incorporated software such as QuickBooks into your financial planning, you might not have organized the cash flow into different categories. Categorization proves extremely beneficial when determining where different revenues are originating from and where expenses are going.
A professional bookkeeper can help to facilitate the exact recording and interpretation of the bookkeeping services to manage cash flow in your business. Your financial statements need to identify every single inflow and outflow with a specific description and should provide you with greater flexibility for monitoring your businesses' expenses, financial liability and overall cash flow. By seeing the cost of every single element (cash flow) of your business, ranging from paper used in the office to gas used by vehicles, you obtain a greater understanding of what it costs to run your business. Detailed recording and the ability to interpret the cash flow in your business is thus an essential element of your business and using professional bookkeeping services to get this correct will significantly contribute to the economic well-being of your business.  
3. Cash Flow is Not Profits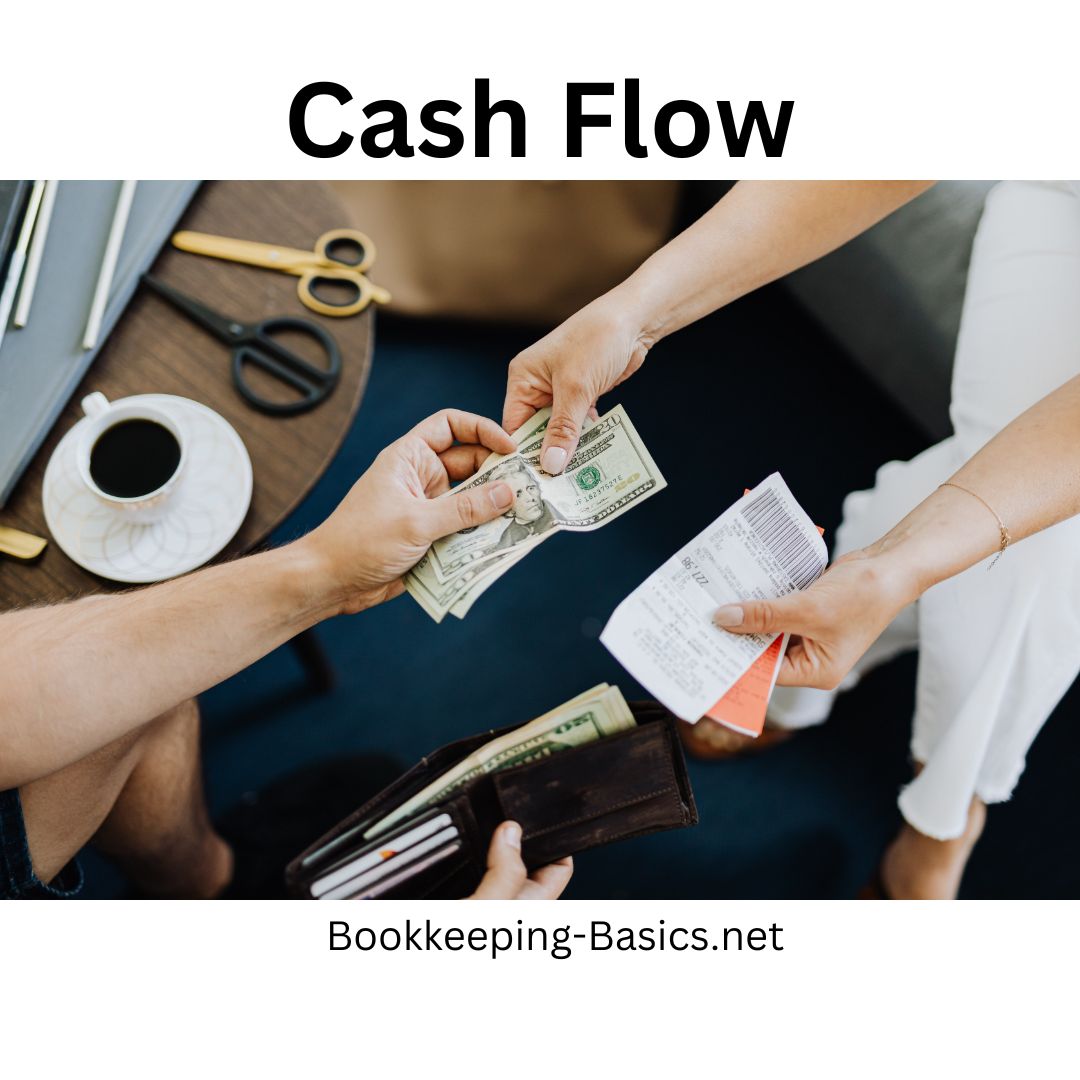 Bookkeeping Basics and Cash Flow
One of the largest mistakes any business owner can make when monitoring their own bookkeeping to manage cash flow is to believe cash flow is overall profit. This is not the case at all. The two are related with one another, but bookkeeping to manage cash flow and profitability are totally different elements.
Profitability is the amount of money you have left over after taking care of all your expenses, liabilities and investments.
Cash flow lists all of the financial variations of the business, so while it does detail the profitability of the company, this is only a portion of what cash flow covers. Something else to consider, having the bookkeeping services of a professional bookkeeper to provide insights into the profitability and state of the business becomes much more important as your company grows into the future.
There are different variables at play when running your business. It does not matter what sort of business or the services you provide, as you grow you are quickly going to understand the importance of trusted financial advice from a professional bookkeeper.  
Bookkeeping Services to Manage Cash Flow Summary
Bookkeeping services play a crucial role in effectively managing cash flow for businesses. By outsourcing bookkeeping tasks to experienced professionals, businesses can ensure accurate and timely financial record-keeping, which is essential for maintaining a healthy cash flow.
The summary highlights the significance of bookkeeping services in managing cash flow:
Effective bookkeeping basics and cash flow management is vital for the financial well-being of any business. Bookkeeping services provide businesses with the expertise and resources necessary to maintain accurate financial records, track income and expenses, and analyze cash flow patterns.
Professional bookkeepers ensure that transactions are recorded accurately and in a timely manner. They categorize expenses, track receivables and payables, reconcile bank statements, and generate comprehensive financial reports. These reports provide valuable insights into cash flow patterns, helping businesses identify potential cash flow bottlenecks and make informed financial decisions.
Bookkeeping services and accounts payable also assist in managing invoicing. They ensure that invoices are sent promptly, track outstanding payments, and follow up with vendors for timely collections. This proactive approach helps businesses optimize cash flow by minimizing overdue payables.
Moreover, bookkeeping services provide businesses with financial data that facilitates forecasting and budgeting. By having access to accurate and up-to-date financial information, businesses can better anticipate cash flow fluctuations, plan for future expenses, and allocate resources effectively.
Outsourcing bookkeeping services and retirement plan tasks to specialized services allows businesses to focus on their core operations while ensuring their financial records are in expert hands. By leveraging the expertise of professional bookkeepers, businesses can optimize their cash flow management processes, reduce errors and financial risks, and gain valuable insights for strategic decision-making.
In summary, bookkeeping services provide businesses with the necessary tools and expertise to effectively manage cash flow. By maintaining accurate financial records, tracking income and expenses, and analyzing cash flow patterns, businesses can enhance their financial stability, make informed decisions, and navigate the dynamic landscape of cash flow management with confidence.
About
Stephanie Horne is an experienced bookkeeper and Enrolled Agent. She is the owner and founder of Tax Avail, Inc. in Rohnert Park, California along with this website and has over 20 years of in person, virtual and outsourced bookkeeping/accounting and tax preparation experience with businesses of all sizes.
Her love and passion is to work individually with business owners and families to help alleviate any financial stress or concerns by helping them to understand and have better control of their income, expenses, cash flow, and tax liabilities.  
Bookkeeping Services Articles
Like Bookkeeping-Basics.net?
Bookkeeping Services to Manage Cash Flow