Hello,


Bookkeeping Basics E-Zine
Bookkeeping E-Zine, Issue #008 -- Bookkeeping and Accounting Services
---

Bookkeeping Basics E-Zine brings you valuable money saving bookkeeping tips, income tax advice and the latest additions to the bookkeeping and income tax website at www.Bookkeeping-Basics.net.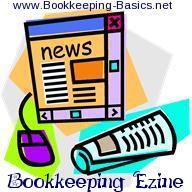 If you like this e-zine, please do a friend and me a big favor and pay it forward. If a friend did forward this to you and you like what you have read, please subscribe by visiting...

Bookkeeping Basics E-Zine


---
In This Issue...
Articles
1) Accounting Chart of Accounts
2) Bank Reconciliation

News
1) The 4.2 Billion Election. Was it worth it?
Resources
1) Like Me On Facebook Sweepstakes!
2) Excel Bookkeeping Template
3) Bookkeeping Test
4) Bookkeeping Tutorial
5) Bookkeeping Services
6) QuickBooks Exclusive Offers

In Every Issue...
1) Questions and Answers
2) Quote of the Month
3) Contact Me
4) Testimonials
5) SiteSearch


---
Articles
Accounting Chart of Accounts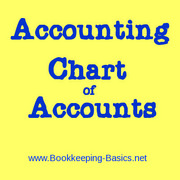 Learn how to set up a chart of accounts in Quickbooks. QuickBooks accounting software is one of the most user friendly, forgiving accounting software programs available. It is especially so when setting up the accounting chart of accounts. QuickBooks makes it easy.

Step 1: Set Up The Company

QuickBooks walks you through this process step by step. When given the option to choose an industry during the company set up process, choose the one that fits your company or the closest available. This will provide a relevant framework from which to build the individual company's chart of accounts.

Step 2: Note Accounts Needed

Divide company accounts into the following categories and subcategories on paper. It also helps to give each account a unique name at this point.

1.Assets
2.Liabilities
3.Revenues
4.Expenses
5.Equity
6.Other
7.Suspense

The "other" account is for those revenues and expenses that do not relate directly to the business of the company. These would include income from interest on notes receivable, or gain or loss on the sale of company assets. The "suspense" account will hold any items that you are not sure how to record until you can determine how they should be reported.

CLICK HERE to read the rest of Accounting Chart of Accounts



RETURN TO TOP



---
Bank Reconciliation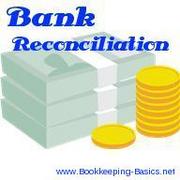 Bank reconciliation is a necessary monthly bookkeeping task. QuickBooks makes it easier than ever with a quick and simple process that you can learn right here.

Step 1: Beginning Balance

You will first select the QuickBooks accounting software file in which you will be working. Then, select Banking>Reconciliation> then the account to be reconciled. The beginning balance will be zero for a new account, or it will be carried over from a previous reconciliation. Alternatively, if this is the first month you are using QuickBooks, it was entered when you set up the chart of accounts. Either way, it is automatically entered, and if it matches the one on your bank statement, you are good.

Step 2: Initial Information

Now you should have the option to enter the statement date, ending balance, date for service charge and interest (same as statement date), and the account numbers to charge these items to. Once you have this information entered, click "continue."

CLICK HERE to read the rest of Bank Reconciliation



RETURN TO TOP



---
News
The 4.2 Billion Election. Was It Worth It?

By Jen Christensen, CNN

(CNN) -- Between the presidential candidates and congressional races, at least $4.2 billion may have been spent on an election that ultimately ended up preserving the status quo in Washington.

Voters elected the same president and the same political parties -- the Republicans in the House and the Democrats in the Senate -- will run Congress.

Did all that record spending really matter?

At the presidential level, maybe not so much.

Partial totals of what was spent so far show that between the candidate, his party and well-heeled outside groups, the "Red Team" spent more money on the effort to elect Republican Mitt Romney than the "Blue Team" did to re-elect President Barack Obama, according to an analysis by the Center for Responsive Politics, a nonpartisan group that monitors the influence of money on politics.

Combined, the candidate, the national party, and outside spending groups, like conservative issue-oriented nonprofits and super PACs, had spent more than $1 billion on Romney's effort.

The liberal version of that combination of groups spent about $96 million less on the Obama re-election. That number will change once the final accounting is completed. There was a ton of last-minute spending on attack ads and get-out-the-vote efforts.

However, the Obama campaign raised almost twice as much as the Romney camp.

Business group blows $29 million on election losers

"I'd be surprised if he left anything in the bank," said Bill Allison, editorial director at the Sunlight Foundation, a nonpartisan nonprofit that advocates for greater government transparency.

No matter who spent more, Allison worries that the amount of money involved in this election will dramatically change politics.

"I think the most worrisome thing is that this is the first billion dollar-plus presidential campaign, so what this means is this amount will become the benchmark," Allison said. "If you want to be a serious contender in the future, you will have to have those kind of resources and it gives an outsized role then to the outside groups who are able to raise unlimited funds."

CLICK HERE to read the rest of The 4.2 Billion Election



RETURN TO TOP



---
Resources
Like Me On Facebook Sweepstakes!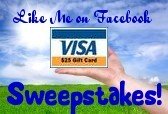 Hop on over to my Bookkeeping Basics and Horne Financial Services Facebook page. Hit the "LIKE" button and you will be entered to win a $25 Visa gift card just in time for the holiday!

Be sure to share with your friends for more chances to win as you will get an additional entry for every person that you share with.

CLICK HERE to enter the Like Me On Facebook Sweepstakes now!



RETURN TO TOP



---
Excel Bookkeeping Template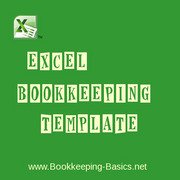 These convenient excel bookkeeping templates are great when you don't want to spend a lot of money on accounting software when getting started.

Rather than having to purchase bookkeeping software such as Quickbooks, you can get started right away with the excel software you already have utilizing these free and inexpensive excel bookkeeping templates and excel spreadsheets for sole proprietor Schedule C's.

CLICK HERE to download the Excel Bookkeeping Template



RETURN TO TOP



---
Bookkeeping Test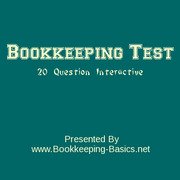 This bookkeeping test is a 20 question interactive exam to help test your bookkeeping mettle.

Your financials are a very important aspect of your business. Whether you are a business owner or bookkeeper, it is a good idea to evaluate your candidates or self with a bookkeeping test such as this one in order to ensure you are getting or providing qualified, accurate bookkeeping expertise.

Missing skills can lead to costly mistakes, and there is no need to take chances. Recording the daily financial transactions of a business requires more than just knowledge of bookkeeping software such as Quickbooks. This bookkeeping exam can help to assess a candidates' knowledge of accounting fundamentals, from general ledger, inventory, payroll, accounts payable & accounts receivable, to invoices and financial reports.

CLICK HERE to take the Bookkeeping Test now!



RETURN TO TOP



---
Bookkeepng Tutorial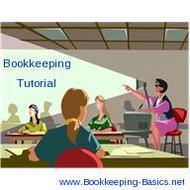 These bookkeeping tutorials and bookkeeping courses are basic free accounting tutorials that will teach and visually show you by video how to do all the different aspects of bookkeeping.

Each of the basic tutorials are presented as a written article outlining how to perform a bookkeeping or accounting function. In addition to each of the accounting tutorial articles, I have included a video series of me personally teaching and visually showing you how to do the different aspects of bookkeeping in the Quickbooks accounting software.

The video series are presented in 1-2 minute segments and start with an introduction on the bookkeeping topic, followed by the first steps and then preceded by the final steps in how to perform the particular bookkeeping function in Quickbooks.

When you are watching a video make sure to subscribe to my YouTube channel as new videos are added every week!


CLICK HERE to watch a Bookkeeping Tutorial



RETURN TO TOP



---
Bookkeeping Services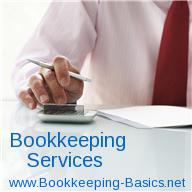 My company offers bookkeeping services to both business and personal bookkeeping clients.

Because my bookkeeping company is relatively small, my clients benefit by getting a personalized, quality service that is beyond comparison.

Below I have listed the book keeping services that I offer to my clients along with a brief description. As the list below is by no means all-inclusive, please feel free to inquire about a bookkeeping service if you do not see it listed.

If it is not a service I provide, I would be more than happy to refer you to a qualified professional that can help you with your bookkeeping needs.

* Bookkeeping/Write-Up * Bank Statement Reconciliations * Financial Statements * Financial Forecasts & Projections * Cash Flow & Budgeting Analysis * Compilations * Clean-Up/Organization * Online Tax Preparation * Tax Services - Utilize the tax organizer

CLICK HERE to find out more about my Bookkeeping Services



RETURN TO TOP



---
Quickbooks Exclusive Offers


QuickBooks software makes bookkeeping and accounting easy with tools to organize your finances all in one place. It will help you to complete tasks like payroll, invoicing, bill tracking and check writing. You can track sales and expenses, and easily share this data with MS Word and Excel. With quickBooks bookkeeping software, you'll spend less time on routine tasks and more time on business.

I have partnered with Quickbooks.com to be able to present to my clients and website visitors exclusive quickbooks deals only offered from authorized quickbooks affiliates. Currently offering discounts up to 20% off all items (including best sellers like Quickbooks Pro) and free shipping.

CLICK HERE to get discounts on Quickbooks Accounting Software



RETURN TO TOP



---
In Every Issue
Questions and Answers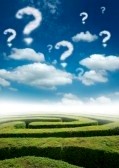 What is a Suspense Account?

What is the suspense account? What should be put into a suspense account from a journal account and how is it worked out? My bookkeeping book is not very clear - this is of course manual bookkeeping. Many Thanks
A suspense account is a temporary account. It is a general ledger account that begins each accounting year with a zero balance. At the end of the accounting year any balance in the account will be transferred to another account which is referred to as closing the temporary account.

An example of a temporary suspense account is the uncategorized expense account. The uncategorized expense account is used to keep a log of the expenses that need further research before being able to classify it.

After the detail has been obtained and the expense can be classified, the expense showing in the uncategorized account will be transferred or closed to another account thereby returning the account balance to zero.
CLICK HERE to read more about the Suspense Account
CLICK HERE to ask a Bookkeeping Question
RETURN TO TOP
---
Quote Of The Month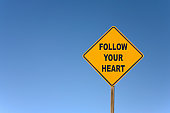 "Everyday is a bank account, and time is our currency. No one is rich, no one is poor, we've all got 24 hours each." - Christopher Rice

CLICK HERE to read more Motivation Quotes



RETURN TO TOP



---
Contact Me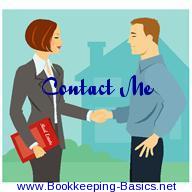 Do you have any comments? Ideas? Feedback? I'd love to hear from you! Just reply to this e-zine and tell me what you think! Or...

CLICK HERE to Contact Me



RETURN TO TOP



---
Testimonials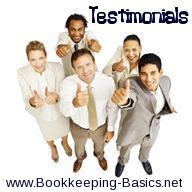 "My husband and I have been together for the past twelve years and we were so blessed to have my father-in-law to be our tax consultant. We never had to worry about finding someone to do our taxes because we always relied on him. This past year my father-in-law passed away and knowing that we were grieving our own personal loss was enough to bare, but we also knew that the comfort of him doing our taxes was gone and finding a new person was a realization.

Finding Horne Financial Services was truly a God send. We informed Stephanie of our situation and she handled our pain with such sincerity and compassion. Her professionalism was truly evident! My husband and I were dreading this appointment, but our time with Stephanie was truly painless. She was so quick and sufficient but also went over everything to make sure we understood the entire process.

This year was hard for my husband and I losing someone so special to us. Now looking back at our experience with Stephanie, we feel she was very respectful and compassionate towards our situation and that we now do not need to worry about finding someone to help us with our taxes. I feel that her commitment to excellency was truly evident and now I'm happy to say she will be doing our bookkeeping and taxes next year and the many years following!"
CLICK HERE to read more Testimonials
RETURN TO TOP
---
SiteSearch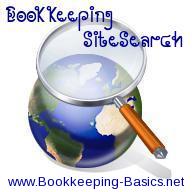 What are you searching for? Did you know that you can utilize SiteSearch to find anything you want to know about bookkeeping, accounting, income taxes, finances and saving money?

Are you wondering where exactly to find out about how to start your own business? There is no need to waste precious time looking around! The Bookkeeping Basics SiteSearch will help to solve your search problem.

CLICK HERE to give Bookkeeping SiteSearch a try today!





RETURN TO TOP



---
Thank you!
See you next month,

Stephanie Horne
Owner, CTEC Registered Tax Preparer (CRTP)
Horne Financial Services
(707) 795-1320
Stephanie@Bookkeeping-Basics.net

www.Bookkeeping-Basics.net



RETURN TO TOP