Hello,


Income Taxes 101
Money Saving Taxpayer Tips | Kindle E-Book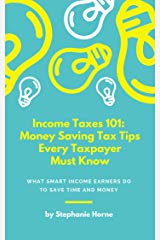 ARE YOU FEARFUL ABOUT MAKING costly mistakes on your income tax filing and missing out on personal and business deductions?

Now you will no longer need to feel worried about expensive errors when it is time to file your income tax return.

This book will give you advice on all the relevant tax information and deductions:

Income Taxes 101 Kindle E-Book

You will learn about what to look for when hiring tax preparation services versus doing your own income tax return, find out about interesting tax history & trivia, and get information about what is found on a tax organizer that will help you put together your annual tax information.

You can gain access immediately by following the link below:

Download The Income Taxes 101 Kindle E-Book Here

You will also learn about tax deductions and gain access to tax deduction lists for multiple different professions in addition to finding out about estimated tax payments, tax software, and income tax resolution options that are available should you ever run into an issue.

Information on how to handle tax liability payments along with reviews about accounting & tax software for doing your own income tax preparation can be found here as well

When you are done, I would appreciate it if you would please help me out and leave a review at Amazon here.

It would be super helpful, thanks!

Get Your Income Taxes 101 Kindle E-Book Now


---
Bookkeeping Articles | Debt Relief Facts


Learn more about debt relief facts with these Frequently Asked Questions about debt relief on a foreclosed property such as:

Title Transfer On Foreclosed Property

Question: How do I know whether or not title has transferred on a foreclosed property?

Answer: In order to find out whether or not the title has transferred on a foreclosed property, you should simply check in with the local title company or call the lender.

Read More Abut Debt Relief Facts Here


---
Bookkeeping Questions | Free Q&A Forum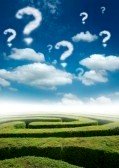 Trying to determine how best to do your bookkeeping for generating a clean profit and loss statement for your income tax preparation can be overwhelming.

While doing bookkeeping, and using income tax software, it is a really good idea to already know what categories of expenses are income tax deductions before tax time so that your chart of accounts can be set-up correctly from the start and you will be ready to go when it's time to file your taxes..

Ask Your Free Bookkeeping Questions Here


---
Contact Me | Questions and Suggestions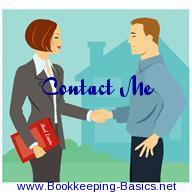 Do you have any comments? Ideas? Feedback? I'd love to hear from you! CONTACT ME with your question or give me a suggestion. Just reply to this e-zine and tell me what you think.

Please be sure to be as detailed as possible, and rest assured I have the utmost respect for your privacy. Like most people, I have a strong dislike for SPAM. I will never disclose your details to a third party. Everything you write here is completely confidential.



Click here to CONTACT ME


---
Bookkeeping Resources | The Help You Need
1) Basic Bookkeeping Forms
2) Bookkeeping 101
3) Bookkeeping Basics Blog
4) Bookkeeping Services
5) Bookkeeping SiteSearch
6) Bookkeeping Store


---
Thank you!
See you next time,

Stephanie Horne, EA
Owner, Enrolled Agent #114752
Horne Financial Services
(707) 795-1320
Stephanie@Bookkeeping-Basics.net

www.Bookkeeping-Basics.net








RETURN TO TOP