Accounts Receivable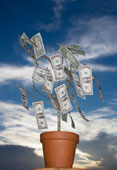 Accounts receivable is the term that bookkeepers and accountants use to refer to the outstanding money that is owed to you for sales that you have already made that haven't been paid for yet.
The account is called A/R for short. (There usually is only one single account on the chart of accounts to track all of the outstanding invoices even though the word "accounts" is plural.)
---
Accounts receivable account
This is an account that should be added to your chart of accounts by the first time you write an invoice. The account will be used to track the money that is owed to your business.
When you receive a payment from a customer, or when you write an invoice, you should enter the transaction in the register for your A/R account.
This account is listed in your chart of accounts as "Accounts Receivable." But if you really need to use more than one of this type of account in your business, then you can add additional A/R accounts to the chart of accounts as well.
---
Entering an open balance for a customer
For each customer that you have, you will need to enter the amount owed to you on your start date. If you do not know the opening balance, you can choose a different start date starting from when you do know the opening balance.
Or you can figure out the opening balance by reconstructing what your customers owe you today by subtracting any payments they made between then and now, and adding any additional billings between then and now.
You can also ask your accountant for the year-to-date balances for your accounts.
When you enter the opening balance for your customers, you're building the A/R opening balance.
---
From your start date up to today's date
When you enter the following types of transactions using the standard sales forms (checks, bills, and invoices) you are ensuring that your A/R accounts (and accounts payable and income and expense accounts) are up-to-date and accurate:
Bill payments
Bills from vendors
Credits from vendors
Deposits
Sales tax payments
Invoices and sales receipts with sales tax, if appropriate
Customer returns
Payments received from customers
---
Accounts Receivable Register
The A/R register will list all of the payments from customers, credit memos, invoices, and customer discounts that you have entered related to each of your individual customers.
New statement charges can typically be entered directly into the register. A statement charge will appear as one item, instead of the multiple items that are shown on the invoice.
You cannot enter any other transactions directly into the register.




Do You Have An Accounts Receivable Question?
Ask your Accounts Receivable question and help others while you're at it!
What Other Visitors Have Said
Click below to see contributions from other visitors to this page...

A/R AND A/P FOR SAME COMPANY IN SIMPLY ACCOUNTING SOFTWARE






SO THIS IS WHAT I HAVE COMPANY A OWES COMPANY B $100.00 BUT COMPANY B OWES COMPANY A $100.00 SO WHAT DO I DO IN SIMPLY ACCOUNTING AS FAR AS A ENTRY SO …
Batching Receivables Not rated yet
Hi there, I have a question regarding the dates you should enter if you are batching entries. We are a charitable organization that takes in donations …
Accounting Entries On Interest Received Not rated yet
What is the accounting treatment of interest received on a deposit account opened in a private limited company' name but operated by a director with his …
Account Receivable Not rated yet
A percentage or dollar amount that is added to an overdue account receivable is considered a what?
Accounts Receivable via Cash Sales Not rated yet
I work for a family owned oil corporation. I use Quickbooks Pro 2008. I am having difficulty with the accounts receivable via cash sales. Many of the …
MS Excel Accounts Receivable and Aging Worksheet Not rated yet
Do you happen to have or know where an accounts receivable aging worksheet created in Excel can be found and downloaded? I am wanting to find one that …
A/R Issue Not rated yet
What kind of journal entry would I use for sales that were accounted for in A/R on an invoice. The deposits were not applied to the invoices properly, …
Delinquent Accounts Receivable Not rated yet
If a bookkeeper reviews delinquent accounts receivable and finds that a relative of his has not paid his account of $550, and you know he had been having …
Accounts Receivable Not rated yet
How do you post a refund to Accounts Receivable?
Using the General Journal, you would debit Accounts Receivable and credit the bank account.
…
---
Learn about the Accounts Payable

Learn about the Balance Sheet

Learn about the Chart of Accounts

Learn about the Profit and Loss Statement

Return from Accounts Receivable, to Bookkeeping 101

Return to Bookkeeping Basics Home Page



ABOUT ME ~ CONTACT ME ~ FAQ ~ SITEMAP ~ SITESEARCH