Letter J: Bookkeeping and Accounting Definitions
There are 100's of accounting definitions and bookkeeping terms here in my bookkeeping glossary.
Use this page as an accounting resource to help improve your bookkeeping knowledge of terms starting with the letter J.
Just pick a letter to go directly to the bookkeeping terms associated with that letter, or use the search engine below to search the entire website.
Custom Search
---
---
ACCOUNTING DEFINITIONS STARTING WITH THE LETTER J
Join:
To set or bring together, connect, combine. To come to a junction with, become part of.
Joint Account:
An account in the name of two or more persons.
A book for recording daily transactions, especially in double entry bookkeeping, using a formulaic style to ensure their correct entry in a ledger.
Journal Entry:
An entry made into the Journal recording daily transactions.
Journalize: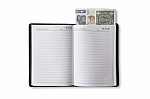 To enter in a journal. To write or describe in a journal. To keep a journal or diary.
Jumble:
To mix in a confused mass, put or throw together without order.
Jurisdiction:
Lawful right to exercise official authority, whether executive, legislative, or judicial. Power of those in authority, control.




---
Please subscribe to my monthly newsletter, Bookkeeping Basics E-zine. It tells you each month about the new information that I have added, including some great tips and advice from myself and other E-zine readers.


Get Discounted Products at The Bookkeeping Supplies Store

Return to Bookkeeping and Accounting Definitions

Return to Bookkeeping Basics Home Page



ABOUT ME ~ CONTACT ME ~ FAQ ~ SITEMAP ~ SITESEARCH